99 Tracker, 5 door, 2L, 4x4
I was bored during the Isolation so my mind turned to superfluous things..
Although my Tracker was running well, and I had installed the present plugs at about 126k, I decided to mosy out to the garage and do a service, Not wanting to get dirty, I connected a scope and ran a diagnostic, the plug/ignition passed well withing spec with a 15KV spark line and a good waveform..n Satisfied I closed the hood..
Last week, some 5 weeks later, again bored, I returned to my engine and this time I removed the plugs, installed a set of new NGK Iridium (sisters to the ones I removed), and again ran the scope diagnostics, this time I recorder 9-10KV on the waveform.. and a sweeter sounding engine..
Keep in mind the coils are capable of a 50k volt spike. so they were not stressed.. inspecting the plugs the electrodes were still satisfactory, and the gap was only about 7-10 thou wider than the standard set.. The outside displayed a fair amount of rust..
The present odometer reads 268K, so the plugs have 142k of running time..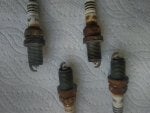 Judge for yourself if the sparks could have been re-gaped and put back into service...
A set (X2) are currently $14.99 CAD plus tax, in my neck of the woods...