Thought I would share a little something I did to fix my freezing carb
I had a piece of copper pipe lying around so put it in my airbox
I piped in to the heater hoses at the back of the engine
I put one tee after the heat control in the hose to the heater core so if you turn the heater control to cold, the water stops flowing through the copper pipe
Authough you could just fit a ball tap.
I put the other tee in the return line from the heater core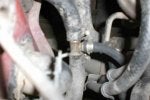 fittings in heater hoses
(air cleaner removed to see it better)
Outside air temp was 9 deg celsius
Air temp in top of snorkel was 9 deg
temp in intake pipe between air box and carb before turning water on was 14 deg
temp in pipe after turning water on was 28 deg!
temp in pipe holding 2000-2500 revs was 24 deg!
Havent had a frozen carb since!