Discussion Starter
•
#1
•
This thread is an offshoot from a question in another thread. I am posting this in a new thread so it is easier to search for it later.
Thanks Bill, I'll do that today. BTW, I noticed the mirrors in your two Samurais are on the fenders, rather than on the doors, how did you do that?
I found quite early on that when you make the doors easily removable, your mirrors end up leaning against the garage wall - which doesn't do you any good if you have to drive through traffic. Fold down the windshield and then you have no mirrors at all...
There are a few mirror relocation kits out there at the Zook Vendors web sites. They bolt to the upper door hinge and the mirrors bolt onto them. kind of strange looking.
I have done it two different ways. The trail zook was never meant to be a show truck, so I just used a few sheet metal screws and attached the mirror directly to the windshield base. Done deal.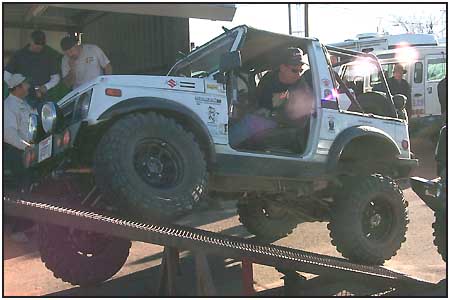 The stalker (street) project truck was meant to be a daily driver and something to show off at events, so I took a bit more thought on that one. I first used a set of relocation brackets (but again, they looked strange) and then I got lucky and got to try out a product from ZOR (Zuks Off Road). Myron makes a piece of road armor that attaches to the lower part of the windshield frame. It is designed to cover up/strengthen the thin metal that rusts out and drops your wiper arms into the dash. The side benefit is that they also have offroad light mounts and mirror mounts built in! Really slick!
One word of warning, this piece was not designed to work with a fold down windshield kit. I bet it can be done, but you will have to do some trimming and get really thin lights...