Discussion Starter
•
#1
•
My wife has purchased a 4runner and is retiring her tracker.
Bought like this two years ago with 108k miles on it: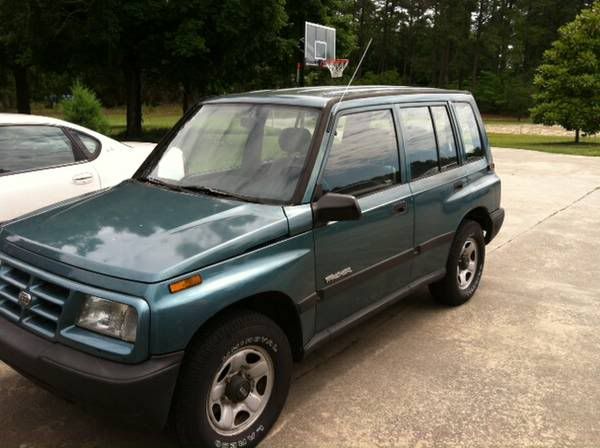 Looks like this with 151k on it: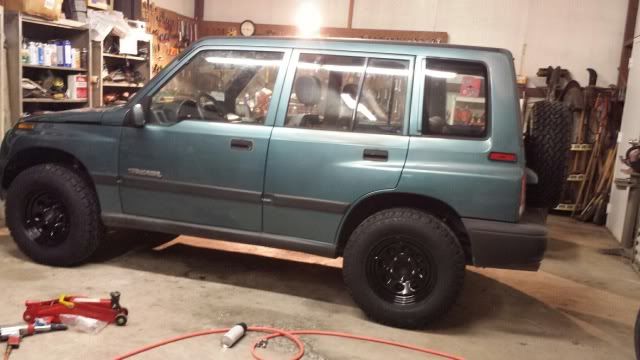 The bad:
Typical Suzuki oil leak, less than a half qt per 1k miles.
The paint sucks because the guy who sold it to us cleared over faded paint.
The interior fan only works on the third speed because the switch is bad. Not the regulator, it's new.
The good and receipts for everything:
New gates timing belt kit at 110k.
Old Man Emu full suspension at the same time.
New bosch waterpump.
New accessory belts.
New radiator.
New denso o2 sensor.
New ngk plugs and wires.
New distributor cap and rotor, airtek maybe.
New radio, pioneer.
New speakers, pioneer.
New interior fan, denso.
Longtube headers, 2.25 exhaust, high flow magnaflow cat, magnaflow muffler.
New brakes.
New calipers.
New rear wheel cylinders.
New shoes, not installed yet.
Oil changes every 5k.
Trans drain and fill with valvoline full synthetic every 5k.
New filter installed at time of timing belt.
New fuel pump.
New fuel filter, not installed yet.
New battery.
Coolant fflushed twice.
New hoses.
New rear door support.
Cragar 15x7s with 235/75r15 general grabber at2s with 75% tread.
!!!!!!!ZERO RUST!!!!!!!
Cruise control, manual windows.
I would, and have, driven this thing across the country.
But the best part, and the part you won't belive until ypu get under it and look, it has never been offroad besides our milelong gravel drive. I had my suzuki on 33s with bumpers for offroad stuff.
It averages 26-28 mpg. It has no problem running 75 on the hwy.
Comes with all extra suzuki parts in my possession. I have a whole nother custom exhaust with high flow cat and magnaflow only 2 inch piping.
Any questions, ask.
I can deliver for a fee if paid a non refundable deposit via paypal.
Just passed state inspection and emissions.