Discussion Starter
·
#1
·
This is a month late, but in case any of you missed it, some of the numbers are Canadian since its a Canadian auto press article: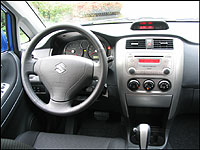 December 3, 2004
2005 Suzuki Aerio Fastback SX AWD
by Alexandra Straub , Canadian Auto Press
Some Cars Have to Rely on a Good Personality
I am glad to say that my most recent experience with the Suzuki Aerio Fastback was much more pleasant than my previous one. The 2005 model comes with various exterior and interior upgrades which add to the car's overall appeal, although I still can't say I am a fan of its exterior styling at all.
To me, it looks like a rather unattractive spaceship! While no X-wing fighter or Enterprise for that matter, the updated 2005 model at least sports a new front bumper, grille, fog lamps, newly designed 15-inch alloy wheels and rear combination lamps, making it a tad less offensive than the outgoing model and somewhat sportier.
As of the 2004 model year, the Aerio received an upgraded 2.3-liter, 16-valve, DOHC engine boasting 155 horsepower at 5,400 rpm and 152 lb-ft of torque at 3,000 rpm. The Aerio SX AWD is only offered with an automatic transmission (sigh) and therefore achieves a rather lethargic 0 to 100 km/h time of 10.8 seconds.
Acceleration was quite good while ascending uphill or passing on the highway, but I found that at higher revs the Aerio's engine tended to sound a bit loud and feel somewhat strained. Nevertheless, the spunky Suzuki offers commendable fuel economy on the highway.
More here:
http://www.auto123.com/en/info/news/roadte...spy?artid=32706