I got the U-Haul hitch, painted, second hand from my Suzuki dealer. They took it off of a trade-in and I got it for $100.
It didn't look like it had ever been used. There was no ball mount with it. I got one at Wal-mart.
The existing hole in the frame, for the bolt on either side is too small for the bolt that came with the hitch. I reamed it out to 9/16" and it worked fine.
The big rectangular washer that needs to go up inside the frame, looked like it could use a 1 and 1/8" hole, and I already had that size hole saw, to that went off well. A Curved nose 10" hemostat was great for hanging on to the bolt while I worked it and the washer up through the big hole and dropped the bolt down into the smaller hole. And all that without any instructions.
In something less than an hour, the whole job was done.
So far, I've not bought a trailer, so I've not done any wiring. I've pulled some trailers around for my neighbor, but we didn't mess with wiring them up.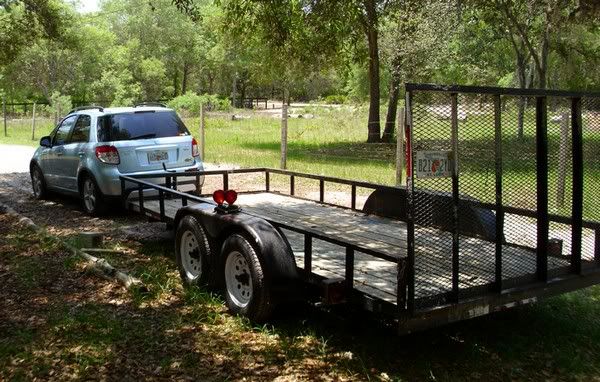 I mainly use my hitch for pulling my road drag, dragging logs around, pulling people out of sand pits, etc...... not really for trailering.
I never cease to be amazed, at just how hard this little car PULLS, when in 4WD/Lock, with ESP off and in 2nd Gear. I'm looking for a John Deere badge to put on the car. rofl