When I purchased my Samurai, I had a Thorley header, Magna Flow Cat, and a 2" exhaust installed. It had a freshly rebuilt 1.3 engine and carb as well.
The Cherry Bomb 16802 turbo muffler was recommended to me, and I went with that, but found it too loud for my tastes. Not loud enough to replace for that reason, but loud enough so I would not use it again.
The Cherry Bomb rusted out at the inlet and outlet, probably due to my mixture being too rich due to a bad ground causing the ecm to stop controlling the carb, which melted the catalyst inside the cat and filled the muffler with chunks of catalyst.
I decided that, this time, if I had to make another mistake, it would be on the side of being too quiet, but that I still wanted a free-flowing muffler.
A google seach for quiet performance muffler resulted in the Walker Quiet Flow and then I seached for the shortest bodied one they had, which ended up being the Walker Quiet Flow 21535. It has an offset inlet, center outlet with dimesions of 2" id in and out, 15" case length, 19" overall length, 3.25" thick and 7.75" wide. The dimensions of the Cherry Bomb were the same, except it had a 13" case and was 17" overall.
The Walker 21535 is the muffler that Walker specs for the '66 - '70 V6 powered Jeep CJ5 and 6, as well as the '67 big-block V-8 powered Thunderbird.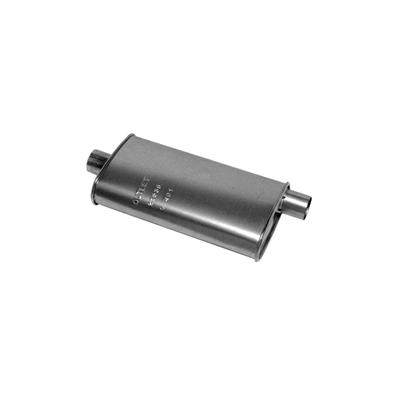 I used the Walker Dynomax 33230 Stainless Steel Clamps to install it as well as the new MagnaFlow cat. I LOVE these clamps.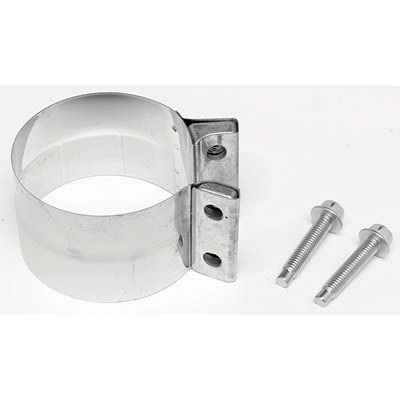 I'd guess its about 25% as loud as the Cherry Bomb was, which means that I still need to shut the engine down when talking into a speaker at the drive through, but can leave it running at the window.
It has a nice mellow turbo-muffler character to the exhaust, and is a bit louder than stock exhaust. It still sounds like a performance exhaust , just with the volume turned down.
Performance feels the same as when the Cherry Bomb and MagnaFlow cat were new. I had lost a good bit of top-end when the cat melted. Now(and when the previous setup was new) the engine really wakes up at 4k and pulls harder and harder all the way to redline, but still has plenty of pull(for a stock 1.3l sammi engine) below 4k.
With the melted cat, it would still wake up at 4k, but then go flat up to 5k, and start losing power above.