- So that also means that the bigger 4 cyl are much heavier?
They are all heavier than the 1.3ltr. The bigger they are, the heavier they are. The 1.6 16v is the largest I have put in and I don't think a light weight Sammy needs any more hp than that.
- Do i need some special brackets to install the power steering box to my frame and where would I get it?
A good kit will have all the brackets included. It will also be easy to install without any additional fabrication or scrounging. That's what makes it a good kit.
- Toyota axles: since you never did it, does that implies that we do not really need it and that you are using just the original Samurai axle on your rig?
Toy axles can make a zook bulletproof, but so could a set of Dana44's... Unless you are looking to spin some 35's - 37's I don't think they are warranted. I run a stock front axle housing with additional gussetting to keep it straight. I also stuffed it with Spidertrax 26 spline RCV Perfomance Axle shafts. That is MY bulletproof.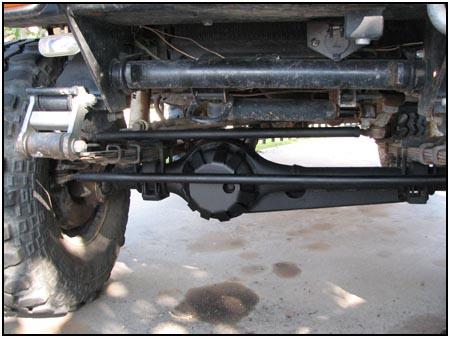 My rear axle is a Spidertrax unit that runs a Track/Kick rear diff with chromoly shafts set up as a full floater and running disc brakes. If you can only upgrade one axle, the rear is the one to protect.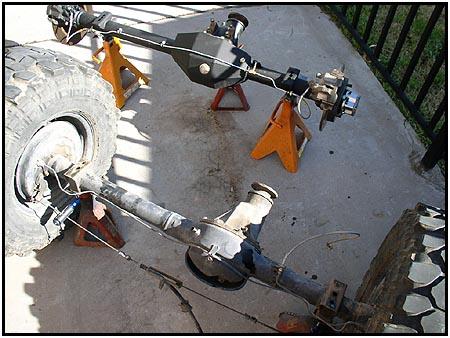 - did you do any upgrade to it?
See above.
- I can use the spidertrax spacer to get a little more articulation room, so can they take that extra load?
A wider track can be a real benefit when going off-camber. I have been using them since they came out and I have never had a problem.
- what tire size for offroading do you recomand?
I had a friend that swore he could do any trail using 31's... He proved he could 'walk the talk' as he conquered every 5+ trail in the Las Cruces Chili Canyons... Tire size is up to you and your wallet. Pick a tire you want to build for and go from there. I prefer 33's myself.
- and would you do also a moderate bodylift (1" or so) to get more room for up travel?
I don't run a body lift (because I have no legit reason to run one) and take a look how high I can stuff a 33" swamper... I think it would exceed your needs for the non-extreme stuff. (old pic)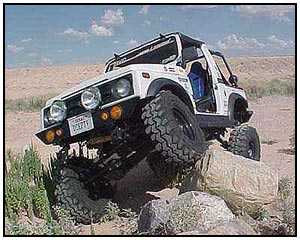 - also you ecomended trail tough as the better built kit, I can of had though the impression that the brackets from rocky road look sturdier, have you had a look at them?
The quality award goes to Trail Tough... sorry, but RRO has never come up to that level.