Just in case anyone was following this, the reason it didn't go well was twofold.
Firstly, the wiring didn't look like what I saw in the manual.
Secondly, and much more significantly, as I was figuring it out I noticed that someone had been in there already: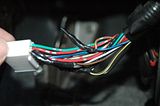 Further investigation revealed this: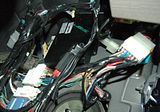 A laserline alarm system, which was tied in to the central locking.
Now there was an alarm fob with the car when I bought it, but I was told it didn't work.
I figured it would probably be easier to figure out why not and sort that out, rather than try to fit my new controller.
So I tried it, and it works perfectly.
So I have remote central locking and an alarm.