Sorry, the RUF (or Rears Up Front) conversion can be done two ways. Either using a set of drop shackles to make up the extra length (and you said you don't want to) or use a RUF kit like this: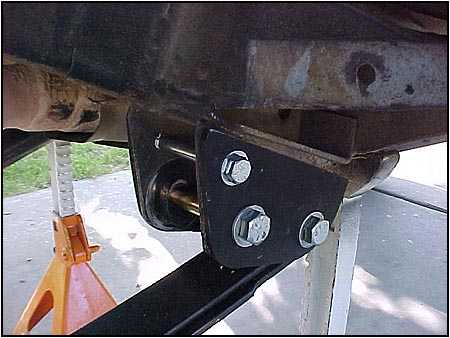 The kit just moves the mounting point, and it is built from two pieces of flat stock and some grade 8 bolts. This will move the springs back enough so that the shackles don't lay over from the additional spring length. The only other thing you may need to do is to redrill your spring perches (on the axle housing) and spring pads to move the axle back about an inch. If you want, you can build an adapter to move it without drilling. An adapter looks like this: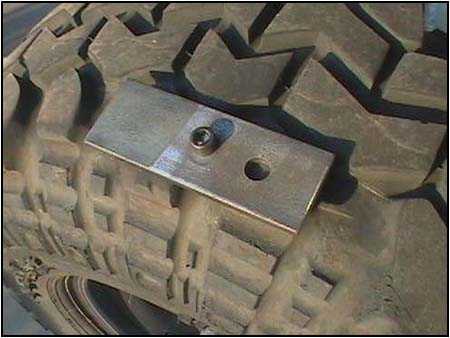 I am pulling these pictures from an article I did that involved using both methods (RUF and drop shackle) to fit a set of CJ fronts 'in front'.
Going Long
Tell me if you need any other pics and I will see if I have them.
-----------------
Here is a copy/paste from the other post where I discussed selecting shocks.
My trail rig is running the YJ conversion with Trail Tough Missing links and your right, it gives plenty of articulation. I am running Nissan front brake lines up front and a Suzuki fron line extension in back for the rear brakes. As for shocks, I am running Rancho adjustables out back and Deutschtecs (sp) out front. They are the longest they make. You can go much cheaper if you just get the measurements after you set up the suspension.
Once the rig is sitting the way you want, drive it into a ditch diagonally. Make sure that one set of diagonal tires are off the ground or close to it. This means the front has a wheel fully stuffed and the other wheel fully extended. The rear tires will be the same but opposite.You can then measure the full extension and compression needed of both the front and rear shocks. I would add an inch to the extension and subtract an inch from the compression as a buffer.
You can then head to a local parts store and ask to check out their catalogs to find a size shock that will fit the front specs and the back specs. For a budget build, I have picked up shocks that met my specs for as little as US$10 each...
I usually stretch out a suspension in the driveway before taking it out on the trail. This gives me an idea what the suspension will look like at the extremes.
This will also allow you to see if the lift has stretched the driveshaft farther than safe. You can see if you need driveshaft spacers or even longer driveshafts.