Quote:
Originally Posted by
Glooscap
I find myself in a real pickle with my Suzy's starter going but there seems to be no fire...This has become a real mess converting this baby back to her original self. Thank you.
Let's start from the beginning.
The above statement indicates that the starter system is working but the engine is not actually starting. Is that the case?
If so, it sounds like you have some sort if ignition power issue rather than a starter problem.
Otherwise, here is some troubleshooting info on the Clicky Starter Unit (CSU)
The pictures you posted seem to indicate that you have wired everything properly -
here is a picture of the relay connector schematic: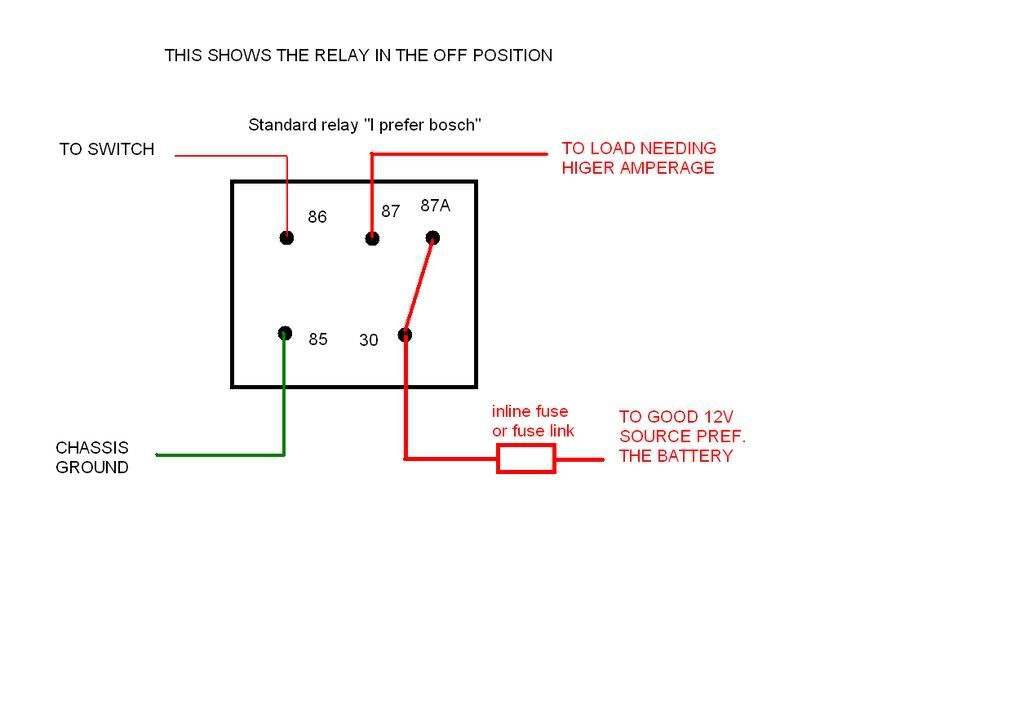 The original starter wire is connected to the relay coil -86.
The other side of the relay coil is connected to ground -85.
The fused connection to the battery is connected to the common side of the relay switch -30- (based on the fact that you have a manufactured CSU).
The Normally-Open connector -87- on the relay is connected to the starter solenoid connector.
Are you aware that there is a normally-open switch on the clutch pedal that prevents the starter from working unless you depress the clutch pedal? It may be defective. You can bypass this safety feature temporarily by disconnecting the wires from the switch and connecting the two wires together. with a short jumper wire and appropriate connectors.
If there is no power to the ignition circuit you may -
have a blown ignition circuit fuse. Check the fuse box using one of the circuit diagrams, above. A true copy of both of them can be obtained by doing a search for
wiring diagram
at Ack's FAQ (see link in my signature, below)
A defective ignition switch. Roadless Gear sells NIB Maruti (Indian SJ413) replacement units with keys and matching door lock tumblers.
a (shudder...)
Hacked wiring harness where the PO tried to modify the ignition circuit on the original wiring harness and failed miserably.
There is not much you can do about this other than, using one of the above diagrams, carefully examine the ignition circuit and fix the problem.
I do hope that this helps!