Some guys with 2007's said they did not get a cabin air filter, even though the place is there and a dummy was in that place, with NO filter material in it.
My 2009 did come with a filter, it was an el'cheapo paper filter that was warped from humidity and full of bugs, tree parts and sand when I finally took it out to inspect it. I promptly exchanged it for a FRAM Fresh Breeze Cabin Air Filter.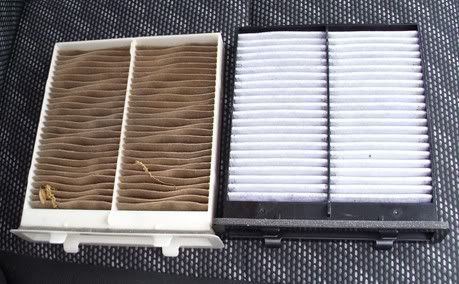 Cheap paper filter on the left and Fresh Breeze filter on the right. Even a blind person could tell the difference in quality.
Also, the fresh breeze filter is impregnated with charcoal and baking soda for the freshest possible air. In 2.5 years I've just replaced mine recently. I had taken the old one out and cleaned it every time I do an oil change. It was getting somewhat worn. I got both filters from "Rock Auto", for about $17 ea.
The heater motor is on the bottom of the heater housing. It should be pretty easy to remove. Without a filter, it's probably full of debris.
good luck,
Shadow